By Joe Walker
Until my arrest, I had never broken the law in my life. Thanks to a groundbreaking inmate education program by Genesee County Sheriff Christopher Swanson, however, only my military experience gave me greater focus on life or opened more doors of opportunity for me.
My one and only arrest was in November 2020, but that's not where my story begins – or ends.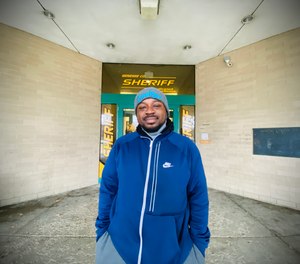 I am 34 years old and proud to have served six years in the National Guard, including one year in Afghanistan.
I worked non-stop all my life in jobs that included home renovations, elder care, and auto maintenance. I also studied business management and marketing.
However, it wasn't until I was accepted into Sheriff Swanson's IGNITE program – which stands for Inmate Growth Naturally and Intentionally Through Education – that I found real direction and, hopefully, the path to a better future.
My first few months of incarceration gave me an ugly picture of what prison would be like without programs like IGNITE.
Surrounded by angry and dangerous men in an unfamiliar setting and in the midst of the COVID pandemic, I felt like I was navigating a minefield. It was almost like being in Afghanistan again: a bunch of guys locked in a place they didn't want to be, everyone was afraid to leave their quarters.
I thought a lot during those four months, pondered, meditated and wrote a lot – and, I must admit, slept a lot.
Once accepted as an administrator, however, I was able to apply myself to working in the kitchen of the Genesee County Jail, where I started out as a dishwasher and quickly transitioned into a cook, first for ordinary prisoners and, in a month, by preparing special dishes. diets for diabetics and other prisoners on restricted diets.
Gradually, I was making a name for myself among the guards and the sheriff's deputies – a good name and a good reputation.
Once I was accepted into IGNITE, however, my future path became clear to me.
Ever since my grandma taught me some of her best cooking tricks, I love to cook. (Even without any formal training, though, I make a nine-ounce grilled sirloin with parmesan, shrimp, and broccoli that's as good as anything you'll find at any restaurant.)
As part of the IGNITE program, I was accepted into IN2WORKa food service and retail warehouse training program for incarcerated persons, sponsored by Aramark Corporation.
Having learned the basics of cooking during my term as syndic, IN2WORK deepened my training by teaching me the basics of kitchen management. As I had never worked in a restaurant or food service before, IN2WORK gave me my first real experience of safely and efficiently managing a large scale food operation.
IN2WORK staff treated us like humans, not like criminals. Believe it or not, after months behind bars, something as simple as buying us a cup of coffee during a class break was a major change that had a profound impact on me.
It was a drastic and welcome change to be able to go to class and not be looked at with suspicion.
IN2WORK teachers took a personal interest in us and made sure we learned every lesson, every step of the way. They brought camaraderie to our classes and ensured that we were successful in the program together.
Before long, I was at the top of my class, and ultimately my lessons resulted in me earning the National Restaurant Association's ServSafe certification as well as Michigan's Food Manager certification.
I hope to use my new skills to find work in the hospitality industry and eventually open my own food truck.
When I think of what my life would have been like without Sheriff Swanson's IGNITE program, I need only look back to the first four months of my incarceration: hours of boredom punctuated by random acts of brutal violence. I saw the mental and physical deterioration from some people around me and realized that was where my own life was headed.
I was in the wrong place, at the wrong time, with the wrong person, but as bad as that experience is, I consider myself blessed that the IGNITE and IN2WORK programs have opened doors for me that will help ensure that my first arrest will be my last.
---
Joe Walker awaits trial for felony domestic violence in Flint, Michigan.