The Pan Pacific Hotel has a new experience to discover, it promises to be Perth's newest entertainment venue and host to a range of jaw-dropping shows, carefully crafted cocktails and pop-up dining concepts.
Set in the lobby of the main luxury hotel Pan Pacific Perth, Pícaresque takes place at The Stage and is the first in a series of planned pop-ups. It only opened a few days ago.
Guests are invited to enter the stage through plush velvet theater curtains reminiscent of a Broadway theater. This is where guests reappear in another world, to gather with friends for dinner or find a corner for an impromptu soiree. The scene is both grandiose and glamorous; walls are adorned with vibrant artwork, and theater-goers can settle into cozy nooks dimly lit by ambient candlelight.
The new Pícaresque dining pop-up features dishes from eight destinations across Spain and is inspired by traditional Spanish tabernas. With a four- or six-course menu, plus a vegan alternative available, there's something for everyone.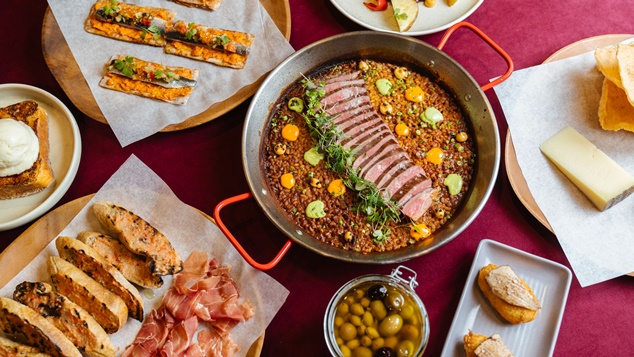 The name of the Pícaresque pop-up comes from an early Spanish literary genre popular in the mid-1500s. A "picaro", meaning a lovable, neglected hero, was almost always the central character in a picaresque novel. The menu served at Pícaresque is directly influenced by this mischievous and cheeky behavior and the naughty adventures typical of a picaro.
Executive Sous Chef Xerxes Bodhanwala has essentially gone rogue; and has created a menu that challenges traditional dishes and the culinary conventions of authentic recipes. Each dish is a unique creation, and made from a blend of local produce and authentic Spanish ingredients to deliver the unexpected.
Signature dishes from Pícaresque include the house-marinated Alto misto olives from Jaén which offer an earthy, peppery tingle, as well as the Catalan Croquetas de Ibérico which are finished with seared bluefin tuna belly. Albany sardines dried and preserved on site are used to create the refreshing sweet and savory starter Tosta de Sardina which comes from the island of Mallorca.
The Galician dish Pulpo a Feira offers a Fremantle Octopus sous vide style that melts in your mouth. This is closely followed by a delicious paella (also known as Arroz a Banda) from the city of Dénia, accompanied by Pardoo Station wagyu beef from the Pilbara region. Meanwhile, premium imported 12-month-old Spanish Iberian ham with toasted bread and crushed tomatoes; and a 16-month aged Manchego cheese served with Inés Rosales and natural honeycomb are not to be missed.
To finish, a decadent Torrijas de Leche from the city of San Sebastián is likened to a caramelized Spanish French toast and is served with homemade "Leche Merengada" ice cream.
A vibrant cocktail list has been curated by the hotel's own mixologists and features twists on Spanish classics. It includes a Piña Picante margarita along with a hard-hitting marianito made with Campari, red vermouth and Tanqueray gin. The cocktail menu accompanies a carefully curated wine list featuring WA and Spanish varietals. In addition, the Spanish Estrella beer offers as well as sangria rosa and blanco, and a Spanish cava by the glass.
While Pícaresque is on stage for the next few months, Sevilla Rumba and Flamenco will set the tone, while a talented flamenco dancer will get guests up and running on Thursday, Friday and Saturday nights.
Pícaresque at The Stage is open every Thursday, Friday and Saturday evening from 5:30 p.m. to late. Reservations are available through https://the-stage.com.au/reservations
Source: press release
---

You can support our work by subscribing to our Patreon
or contribute to our GoFundMe country.